Do Blow Your Own Trumpet [The Wasted Time Project]
The Wasted Time Project- Post 3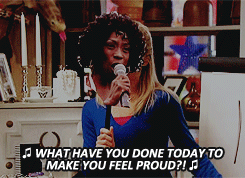 Anyway, today's self-care blog theme is all about feeling proud. This post is not sponsored by Heather Small.
Feeling proud of myself is one of those things I don't do enough. I'm very much a person who does a task and moves on to the next one without ever sitting back and taking in what I've achieved. Quite a few times I've played out of my skin on stage and rather than sit back and accept the praise I've been given, I'm focused more on what I could have done better.
I've talked about this self-critical personality before in a previous post [click here to read] and for playing and life in general it can be great for progression but it also can be dangerous.
I just wish I'd been proud sooner!
Whether your achievement is simple like getting out of bed and going to work, or a bit more complex like winning a competition, making a difference in a child's life or getting a promotion, revel in your achievement. Like I said, nobody truly knows how hard you tried or what obstacles you faced in order to achieve something, so don't be afraid to, at least privately, celebrate how awesome you are! In fact, to hell with private! If you want to share with people something you are proud of, do it! Write a blog, post a pic on insta, share a 'feeling proud' status on facebook, spray paint it on the back of a truck (I'm kidding, vandalising ain't cool kids).
Be you. Be Positive. Blow your own trumpet!
Read Post 2 of The Wasted Time Project, blog challenge here
Get in Touch
Facebook: Click here
Twitter: Click here
Email: itsnotatrumpet@hotmail.com